Preparing for Worship: Betrayed with a Kiss
Preparing for Worship: Betrayed with a Kiss
"[In the biblical story] we are introduced to a vulnerable God. Vulnerable in the sense that he is open to wounding. Open to Pain. Open to rejection. Open to death."
Curt Thompson, The Soul of Shame
"Nobody knows the trouble I've seen
Nobody knows but Jesus
Nobody knows the trouble I've seen
Glory, Hallelujah"
Louis Armstrong, Nobody Knows the Trouble I've Seen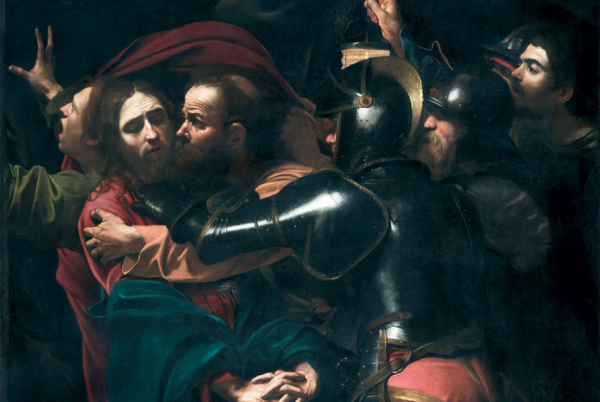 Dear Friends,
I have a love/hate relationship with being complimented. On the one hand, I have a deep-seated desire to hear from others that I have done well. On the other hand, when people actually do express their appreciation of me, I am often overcome with the sensations of fear and suspicion. At times, my interior monologue can feel something like this:
She's affirming me. What does she want from me?
or
He just praised me. He obviously has poor judgment.
One of the reasons why many (all?) of us tend to do this is that we fear betrayal. We fear someone drawing near to us with an outward show of affection and allegiance, only to have them inflict harm upon us. The result of this fear is that it prevents us from enjoying the deep relational connections God desires for us because we are always trying to protect ourselves from getting hurt.
Jesus knows the fear and pain of betrayal from his own experience. He knows what it's like to have the people closest to him not really understand who he really is. He also understands from bitter experience what it is like to have people affirm him with their words and actions, while deep down they are actually inflicting harm upon him.
This week, we will consider Jesus' betrayal by one of his closest friends, Judas. Interestingly, not only did Jesus know Judas would betray him (with a kiss, no less!), Jesus actually welcomed the seditious act as something that was an integral part of the work God had called him to do.
This week, we begin a 10-week series that will use the assigned biblical texts from the Revised Common Lectionary. The lectionary is a collection of Biblical texts for eachSunday that generally follow the church calendar. Here is a helpful article about the lectionary.
This week: Betrayed with a Kiss, Luke 22:1-6; 39-53; Phil 2:5-11
I hope to worship with you.
Warmly in Christ,
John
P.S. Don't forget, because of the men's retreat, we are only having one worship servicethis Sunday at 9am!